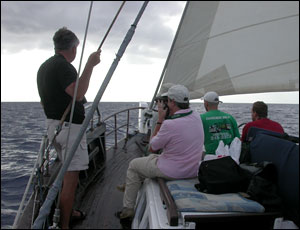 A full day to Desertas with "Ventura do Mar".
Photo: Niklas Holmström, 2004.

To see the best of Madeira's seabirds it is often necessary to get out onto the sea where you usually get close and excellent views, but not always. In order to maximise the number of birds and species you see, you have to seawatch from shore (Porto Moniz, Porto da Cruz or Ponta da Cruz). The trip to Desertas probably offers the best chance to get excellent views of seabirds, especially Little and Cory's Shearwater and Bulwer's and Fea's/Zino's Petrel, but there are no guarantees. John Oates and company saw no Fea's/Zino's on a boat trip to Desertas on 23 August 2000, however Rolf de By (NL) saw up to 30 Fea's/Zino's Petrels on 9 September 2000. All time high is 91 Fea's/Zino's recorded off Desertas on 31st October 2004! But, one should never take it for granted that a trip to Desertas (or Porto Santo) will produce these species. Rarely seen species such as Madeiran Storm-petrel, White-faced Storm-petrel and Red-billed Tropicbird has been reported from these boat trips.
Besides a full day trip to Desertas you also have the opportunity to get out to sea for a half day along the northeast coast (Ponta de São Lourenço) or the south coast (passing by the seawatching spot Ponta da Cruz) to Cabo Girão. The latter route in the afternoon could be very productive.
As a bonus to the seabird sightings there is a good possibility of spotting schools of Dolphins (Bottlenose, Spotted and Common), Whales (most likely Sperm, Pilot, Sei, Bryde's or Fin Whales), Flying fishes and with great luck even the rare Monk Seal or Sea Turtles.
Today there are only one boat, 'Ventura do Mar', that provide regular tours from Funchal to Desertas islands (Deserta Grande). You will find their offices and boats at the end of the Funchal Marina. They are located on the landward side (not on the jetty side), before the shore parade wall that separates the Marina and the beach in north-east direction.


Ventura do Mar
This madeiran traditional boat has places for up to 18 passengers (the crew excluded) and is the best suited for birders/seawatchers. One of the crew, the marine biologist Luis Dias (main skipper), provides excellent service and can identify dolphins and whales if they appear. He is also very familiar with the seabirds around Madeira and the Desertas. Ventura is also the only boat that has the necessary permission to land passengers on Deserta Grande. 'Ventura do Mar' leaves Funchal for the Desertas every Friday and sometimes in late summer two days a week. With 'Ventura do Mar' you have four more hours at sea than with 'Gavião'! Four hours is very important to a dedicated seawatcher, this, along with the difference in price, makes the choice easy. Book places in good time!


Prices in 2006
» A full day to Desertas: 80 Euro per person, which includes an excellent lunch and drinks onboard plus an extra fee of 2 Euro to the National Park. In 2006 the boat goes to the Desertas once a week, on Fridays. Time: 09:00 am to 19:30 pm.
» One and a half day to Ponta de São Lourenço (to go around and explore the northeastern tip): 125 Euro per person, which includes an excellent dinner and drinks onboard and breakfast as well as guide and insurance. Time: 10:30 am to 13:30 pm (on the second day).
» A half-day in the afternoon to Cabo Girão: 27.5 Euro per person.
» Evening tours (from 18:30 to 21:00 hours) along Garajau and Ponta da Cruz: 35 Euro per person.

Hiring 'Ventura do Mar'
Groups of birdwatchers or organised birding tours can charter 'Ventura' for a day or more. One highly recommended option is a 24-hour boat trip to the Desertas, with an overnight stay on Deserta Grande. You will see the seabirds arriving in the evening and after darkness has fallen hear thousands of Cory's and Bulwer's and hundreds of Madeiran Storm-petrels flying over your head to their nest sites.
To quote Fernando Iván Ramírez (the Director of SPEA-Madeira) and Mark Gurney (RSPB) on their two-day trip to The Desertas on 13-14 June 2003:

"We landed at Doca (Deserta Grande) in the early afternoon and moved our things to the Field Station where we would spend the night. The artificial pool outside was almost continuously visited by family parties of Canaries and Berthelot's Pipits, which made for good photos in the cooler evening light. We peered into cracks between some of the larger boulders on the beach to see a Cory's Shearwater and a Bulwer's Petrel on their nests. As darkness fell, the first seabirds came ashore, and we heard the Shearwaters calling like deep-voiced Kittiwakes. The Petrels had a barking call, and Madeiran Storm-petrels made high-pitched twittering trills. The moon slowly appeared from behind the cliffs and we saw hundreds of birds crossing its face coming and going from their nest sites. Madeiran Storm-petrels and Little Shearwaters were also singing, but it proved very difficult to find nesting holes of these two rarer species. Most of the birds were just silhouettes, sometimes flying round our heads, but there was just enough light to make out the dark shapes of Bulwer's Petrels flying across the rocks. One of them landed very close to us before entering its nest tunnel. The sounds of the seabirds continued through out the night."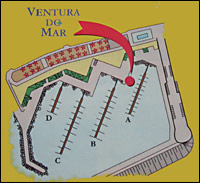 Here you find the boat Ventura in the Funchal Marina.
Price for 24-hour trips to the Desertas:
1500 Euro for the boat, which is divided by the number of passengers
25 Euro per person for food (dinner and breakfast)
It is also possible to book individually (125 Euro, dinner included) but has a minimum of 8 persons.

Further information about Ventura's pelagic trips, land tours and their guides (in Portuguese, English, German and French) can be found on their brand new web site: www.venturadomar.com
Contact address: venturadomar@iol.pt
Phone: (+351) 291 280 033, Mobile: +351 963390796 / 7
The contact persons for birding tours are Catarina and Filipe Alves (the former skipper) and they are the ones answering your email about price, bookings and queries as well.
Porto Santo
Remember that you also could buy ferry tickets at the same price as from the Porto Santo Line's (without extra taxes) in "Ventura do Mar's" kiosk in the Marina at the same time you book or pay for a pelagic trip with Ventura.