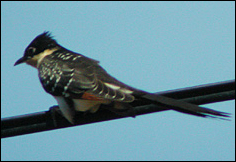 Juvenile Great Spotted Cuckoo at Ponta do Pargo on 23 August 2003.
Photo: Magnus Unger
Unfortunately many sightings of rare birds on Madeira, featured in trip reports or distributed via mailing lists, are not reported to the Portuguese Rarities Committee. Details of rarities should be submitted as soon after the tour as possible. In the full species list (which will be published here later) you will find those species that require a full written report or those that are in interest of the local recorder, SPEA-Madeira.
The Rarity report is published in the new journal 'Anuario Ornitologico' (Annual Bird Report), which also comprises a section on general bird news from Portugal, Madeira and Azores. It can be ordered from SPEA Store: loja@spea.pt
SPEA (Portuguese Society for the Study of Birds) is the BirdLife partner in Portugal.
Rarities seen in the Madeiran archipelago
E-mail address: raridades@spea.pt
This address shall only be used for submitting rarities reports (descriptions/photos)!
For those that don't have e-mail or that wish to send prints, the following Postal Address can be used:
Comité Português de Raridades
SPEA
Rua da Vitoria, 53, 3-Esq
1100-618 LISBOA
PORTUGAL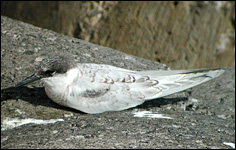 Juvenile Roseate Tern in Funchal
Photo: Magnus Unger, 24 August 2003
Uncommon birds, high numbers of migrating seabirds
The Madeiran section of SPEA is situated in Funchal and are happy to receive interesting records made by visiting birders. Please, don't hesitate to send your bird (trip) report to:
SPEA-Madeira
Travessa das Torres, 2-A. 1º Andar
9050-035 FUNCHAL
PORTUGAL
E-mail: madeira@spea.pt
The useful mailinglist "Noticiario SPEA"
Do you know that SPEA has a free e-mail service with ornithological news from Portugal (including Madeira + Azores)? The service is called "Noticiario SPEA" and is sent out to subscribers (at no cost) once a week, more or less. If you wish to subscribe, just send a message to noticiario@spea.pt with the word "subscrever" on the subject line. This very same address can be used to send in any records (including rarities and all sorts of oddities or just interesting stuff, such as uncommon migrants, etc.). The service is in Portuguese, but we think that the relevant information can be easily understood even if you don't read Portuguese.