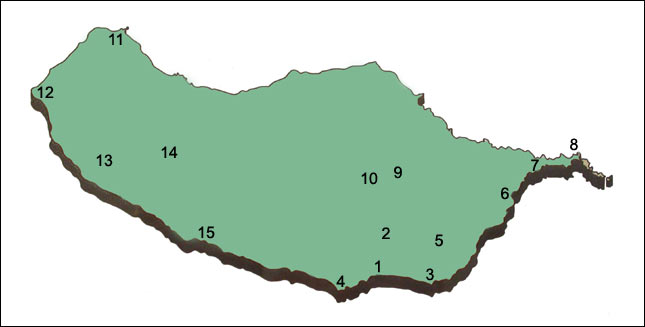 The map show you where several good sites are located and below you find a short description of each site.

Strictly speaking, there are no birding sites in the archipelago where great numbers of species can be found. With luck, you will see a total of forty species during a one week stay and perhaps fifty if you also visit Porto Santo. The selective site list below only mentions good areas where you can find certain species relatively easily, and, of course, every location you visit on Madeira always has a few bird species to offer. Remember, the best and happiest birding you can achieve is when visiting well-known sites mixed with a great portion of innovation. Always try to visit river mouths along the Madeiran coast as regular stops at 'nice' places when travelling by car, which will reward you, sooner or later.
The best time to see migrants that pass through is during the autumn and spring. The winter season could also be productive. No matter what time of year the archipelago is visited, it is always possible to find something totally unexpected.
In several site accounts below you will find links to further photographs viewable on sub pages to this webpage, which could help you get an image of each site's biotope.


1. The Funchal area


Funchal harbour
Seems to be the most reliable site for Roseate Tern in July and August. There are also many small flocks of Common Tern, which are present between March and October. Among the high numbers of Atlantic Yellow-legged Gulls its possible to find a few Lesser Black-backed Gulls and during the winter one or two Ring-billed and Mediterranean Gulls are regular winter guests. Both Gull-billed and Sandwich Terns have been recorded in the harbour. A walk along the beach (NE of the Marina) will often produce Turnstones and other shorebirds such as Sanderling, Dunlin and Whimbrel. Little Egret is also seen regularly and occasionally Spoonbill and Night Heron. Other species recorded in the harbour area include Surf Scoter, Spotted Sandpiper, Audouin's, Laughing, Sabine's, Glaucous and Iceland Gulls.
Furthermore, the huge jetty is a good spot when checking out the harbour as it also offers sea watching possibilities. From here you could easily scan the air over Funchal for species such as Pallid and Plain Swift, Kestrel and Buzzard.


Santa Catarina Park
Located in central Funchal overlooking the harbour. The park is always good for passerines such as Blackbird, Blackcap, Canary and Goldfinch. This is a nice and beautiful park with lots of plants and trees. From here you could also search for birds in the harbour with a scope.

2. Monte Palace (Tropical Garden)
This lovely garden with its cultural objects and different styles is reached easiest with the cable car. This place should be a good site in autumn and spring for migrating passerines. However, year round you could see species such as Plain Swift (high numbers), Grey Wagtail, Robin, Blackbird, Blackcap, Madeira Firecrest, Chaffinch, Canary and Goldfinch with no effort at all.
Costs: 13 Euros for a return ticket with the cable car and 7 Euros for the entrance to the Tropical Garden, which includes two different glasses of Madeiran Wine in the restaurant.

3. Ponta do Garajau
Located only a few kilometres north-east of Funchal. At this site you can listen to Cory's Shearwaters at night. It is also a well-known area for Madeiran Storm-petrels, which breed here with several pairs. A pair of Barn Owl is also regular at this site. Before you enter the parking lot, on the west side of the statue of Christ, a small path leads down to the shore. But there is another place too: From the Christ statue there is a small unpaved path to the right leading down to the small rock at the end of the Garajau tip, where a few pairs of Madeiran Storm-petrels used to breed. From here you can also hear the Cory's at very close range, sometimes just over your head! The name Garajau means "seabirds" in the Madeiran dialect. The cliffs also hold a large colony of Plain Swifts, and Pallid Swift seem to appear regularly here. Northeast of Garajau is Caniço de Baixo, where two Upland Sandpipers have been recorded.

4. Ponta da Cruz
This is the southernmost point of Madeira, located at the west side of Funchal (west of the Lido). Please visit the 'Seawatching' section for further information and photographs.

5. Camacha-Assomada
One great levada near Funchal is Levada do Caniço, between Camacha and Assomada, rated as a moderate walk. However, the walk is relatively easy (but not for children!) if you do it downwards from Camacha. It takes about two and half hours to go down to Assomada in an easy tempo. You simply take the bus to Camacha and instead waiting for the bus at Assomada you can take a taxi back to Funchal at a cost between 5 and 9 Euro. With no effort you will see species such as Buzzard, Kestrel, Plain Swift, Robin, Blackcap, Madeira Firecrest and Chaffinch along the walk.

6. Machico
Located north-east of the airport, along the coast. Park your car near the high building (Hotel Dom Pedro) close to the sea or at the north-side of the river mouth, close to the sea. From there it is only a few minutes walk down to the plaza (central Machico). When you reach the beach, walk along it northwards and you will soon find the mouth of Ribeiro Machico. The mouth seems to attract a few species of shorebirds, Little Egrets and Grey Wagtails. Don't forget to scan the bay and look through the flocks of gulls and terns. After a while you can go upstream (20 meters) until you reach the broad walking path along the western side. Stay there for a while (overlooking the reed beds), because it's a very good place for Common Waxbill. Always keep listening for the electric and nasal, but rather weak, call of the Waxbill as it's often recognized by its call before you see it!
It is also recommended to walk the path upstream for about one kilometre in search for other species. Rarities have included Semi-palmated Plover, Killdeer and two records of Spotted Sandpiper.


7. Caniçal
Located between Machico and Ponta de São Lourenço on the north eastern part of the island. The small river mouth near the fishing harbour can often be quite interesting with Little Egret, Common Sandpiper, Turnstones, many Grey Wagtails and the only reliable place on the main island (Madeira) where you can find Spanish Sparrow (if not visiting Porto Santo). The Spanish Sparrows are easily found in the palm trees close to the harbour. Just to the west of the town, a small stream flows through a steep-sided valley where there are several pairs of Spectacled Warbler. The harbour itself often holds a great number of gulls and terns, while Black-necked Grebe, Squacco Heron, Black-winged Stilt and Ring-billed Gull have also been recorded. The jetty which surrounds the harbour provides good opportunities for sea watching, but it can be troublesome to find the road to it (search for it just north of the village). Look out for Rock Sparrow when driving along the road between Caniçal and Ponta de São Lourenço, which is a good area on the main island for this species, especially the dry and rocky area just north of the village (just after the last round about).



8. Ponta de São Lourenço
To be honest there are not many bird species to see here during summer, except numerous Berthelot's Pipits. However, the landscape is very beautiful and could be productive during spring when the passage of migrants is high. There is a path leading towards the east end from the end of road, which will take approximately 1:10 hours to walk in each direction. Along this great and safe path you should have a good chance of seeing Rock Sparrows. At the end of the peninsula there is a field station (manned by wardens from the National Park) surrounded by palm trees and a freshwater well, which attracts lots of Canaries and Goldfinches as well as Rock Sparrows. This site is well worth the visit! Species such as Buzzard and Kestrel are regularly seen here. From the peninsula there are also many spots from where you can scan the sea for seabirds and whales, but the altitude on most points is too high for true sea watching sessions.



9. Ribeiro Frio & Fajã da Nogueira
These places are located north of Funchal. Try to be there in the early morning as the Trocaz Pigeons seem to be more active then. Take road ER 103 (Faial/Santan). Park the car at Ribeiro Frio where the levada to the Balcões starts. At the parking site you can see and hear Chaffinches, Firecrest and Blackcaps and on the walk to the watch point you can expect several more as well as a few Grey Wagtails along the levada. At the Balcões watch point the main goal is to search the slopes for Trocaz Pigeons. However, another good site (probably the best) is Fajã da Nogueira. From Ribeiro Frio you drive about 7 km towards Faial. There is a road to Fajã da Nogueira (on a sign pointing left) just before an old stone bridge over a river valley. After driving for 1 km along that road you can see the Balcões watch point high on the hillside. On this road the possibilities for seeing Trocaz Pigeon are very good.
This area is highly recommended if you don't want to spend too much time in the woods and prefer sea watching. In approximately two hours you will probably see all of the wanted woodland species.



10. Pico do Areeiro
The only known site for breeding Zino's Petrel, which visit their nests only at night. If you intend to go there on a nocturnal trip you have to book a guide, which can be done through Madeira Aventura or Madeira Wind Birds (see below). The walk to the watch point "Miradouro Ninho da Manta" takes about 20-30 minutes and hopefully you will hear the spooky calls of the Zino's when they arrive at their nests. Best time at night seems to be from 23:30 onwards. It's possible to hear Zino's at this location between April and September, however, July to mid August is the best time. But there is no guarantee that you will hear them on a single visit, as factors such as also weather and wind conditions will determine your luck. However, the landscape is just amazing, especially if it is a starry night with some moonlight. The place is also well worth a visit during broad daylight as a short detour if you go to Ribeiro Frio from Funchal (see photos).
Officially it is forbidden to use the path between Pico do Areeiro and Achada do Teixeira after sunset, which was determined by a governamental resolution signed in 1999. I highly recommend you use one of the guides available if you intend to visit the area. Don't hesitate to contact one of the three companies that run nocturnal expeditions to Pico do Areeiro: Madeira Aventura, Ventura do Mar or Madeira Wind Birds.



11. Porto Moniz
The northwestern tip of Madeira. Please visit the 'Seawatching' section for further information and photographs.

12. Ponta do Pargo
Located in the far west of Madeira. You would think that this is a good place for seabirds, but unfortunately it is too high above sea level. The lighthouse has a garden that often turns out to be a good place for passerines. This is also a good site/area for Buzzard, Quail, Red-legged Partridge, Hoopoe, Pallid and Plain Swift, Berthelot's Pipit, Spectacled Warbler and Rock Sparrow. High numbers of Canaries, Linnets and Goldfinches are often seen here. A walk around the bushy areas is recommended as this westernmost site always seems to attract rare and uncommon species according to many historical reports including White Stork, Long-legged Buzzard, Great-spotted Cuckoo, Lesser and Greater Short-toed Lark, Turtle Dove, Roller, Red-rumped Swallow, Alpine and Little Swift.



13. Prazeres
You will find the village of Prazeres 500 metres or so above the Atlantic Ocean. It lies between Paul do Mar and Jardim do Mar, in the south western part of Madeira. It's well worth visiting if you are heading to or from Ponta do Pargo. The hotel Jardim Atlantico, where several birders have stayed over the years, is located close to Prazeres and its surroundings. There are two parking lots from where you can start birding: the first about 200 metres before the hotel Jardim Atlantico and a small restaurant and the second is in the hotels yard. The best place to see and hear Spectacled Warbler is between those two parking places. An Miradouro can be found from the bottom of the village and if you find the hotel and a restaurant, you will also notice a bridge which goes over the road that comes from Calheta - the only main road. If you go along that road away from the restaurant, you'll come to a cross where a small sign (text Miradouro and picture of binoculars) points to the right (where the sea is). Follow this for a few hundred metres down and you're there. The area holds species such as Sparrowhawk, Buzzard, Spectacled Warbler, Madeiran Firecrest, Robin, Blackcap, Chaffinch and Blackbird. The area is also good for several butterfly species. One needs at least a couple of hours to explore the area surrounding Prazeres in full. (This text is written by Tero Wester, Finland).

14. Ribeira da Janela
Located west of the high plateau Paúl de Serra. The area is good for Trocaz Pigeon and the other Madeiran forest specialties. From Rabaçal a few very nice levadas start into the valley of Ribeiro da Janela. The levada named 'Risco' is highly recommended as the chances to see Trocaz Pigeon here are very good, especially near the waterfall (30-50 birds have been seen there early in the morning on one occasion!). However, if you stay at Porto Moniz its only take ten minutes to the other end of the valley (Levada da Janela) – just follow the signs at the top road above Porto Moniz. If you don't want to or don't have time to walk the whole levada (25 km), but wish to see many Trocaz Pigeons (both flying and perched), just pass the car park where the levada starts. A road sign tells you its a dead end, but drive to the end further down in the valley and from the turn around area you certainly will see many pigeons and other species such as Madeiran Firecrest, lots of singing Blackcaps and Blackbirds, calling Robins and Chaffinches.



15. Lugar de Baixo
Located near Ponta do Sol. The lagoon has always been good for species such as Mallard, Gadwall, Common Teal, Moorhen, Coot and many species of waders (including Lesser Yellowlegs, Semipalmated and Pectoral Sandpiper), especially between late autumn and early spring. Following observations on 26-29/11 2003 the site's potential for waterfowl and wading birds was evident with Common Teal (4), Garganey (probably the 2nd for Madeira), Moorhen (20), Coot (35) and Black-tailed Godwit (1). Species as Spoonbill, Cattle and Little Egret have also been seen.
This productive pool is easy to miss from the road! When you reach the area of Lugar de Baixo driving from Ribeira Brava (entering the area from a tunnel) just look for a footbridge over the road, with a café and the sea to your left. To the right before this bridge there is a car park. You'll find the lagoon behind the café towards west.